Ana Krstajić: Free, Creative And Supported

ПОДЕЛИ
During the previous period, CorD magazine addressed our national platform Srbija Stvara, wishing to receive comments and statements from some of our creative ambassadors, including Ana Krstajić, on two issues:
What image should modern Serbia have?
How much did the creatives manage to change our understanding of Serbia and how much did Serbia give them?
Seven of them gave their views and answers: Miloš Biković, Uroš Petrović, Ivana Vasić English, and after we presented what Slobodan Trkulja, Sofija Stefanović, and Stefan Milenković said, now is Ana's turn.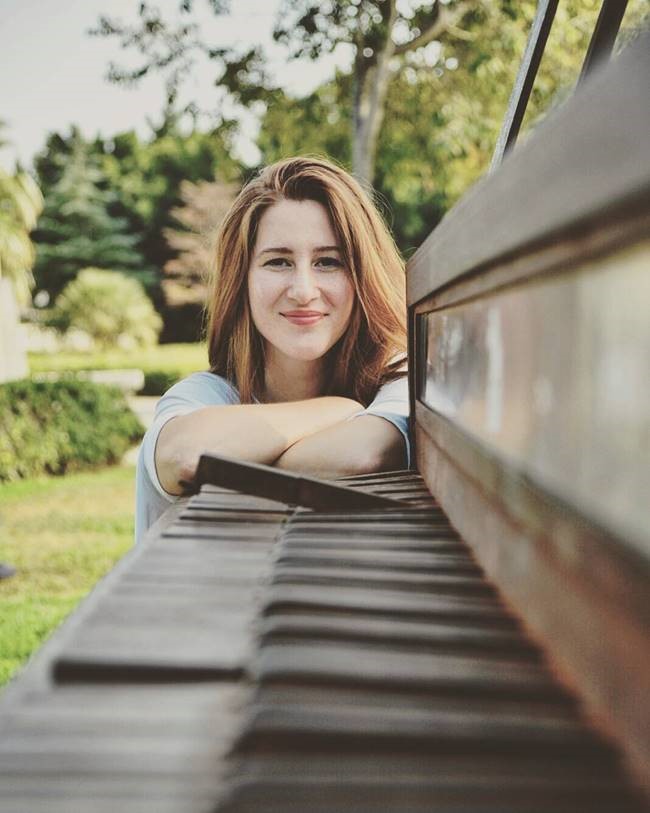 Ana: By investing in our creatives, we are directly investing in the image of Serbia
People are the key for Serbia, their spirit. The average Serb has a friendly and hospitable disposition, is a person who loves their country and, with some things having started to change rapidly, a Serb is someone who expects better times. A great role in changing Serbia's image for the better is actually played by our successful people, talented individuals, scientists and creatives who promote such a positive image of Serbia on the international map.
Modern Serbia should direct its powers and invest additionally in forming and developing significantly more successful young people, who can then subsequently, without any hindrances, practically apply their knowledge, skills and talent in their own country.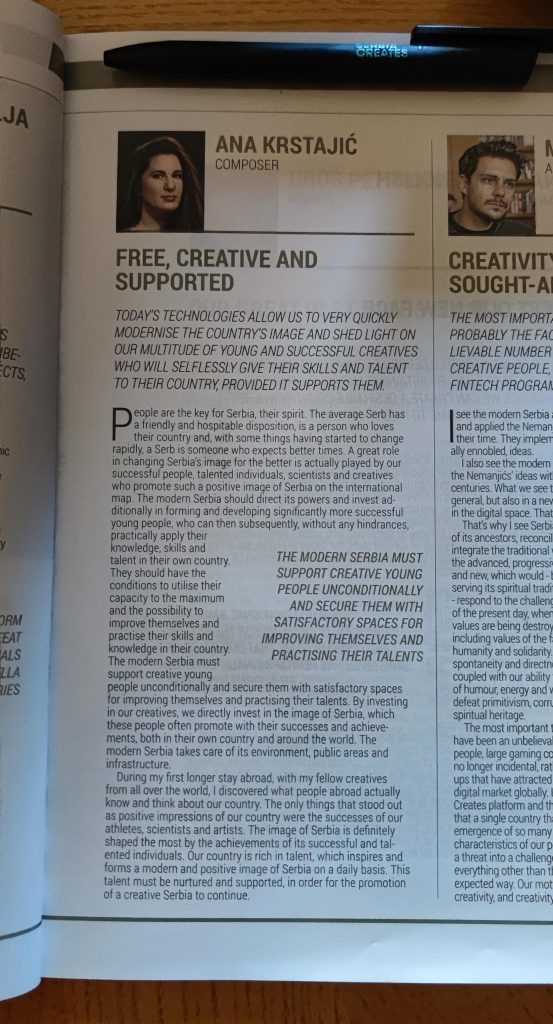 They should have the conditions to utilise their capacity to the maximum and the possibility to improve themselves and practise their skills and knowledge in their country.
The modern Serbia must support creative young people unconditionally and secure them with satisfactory spaces for improving themselves and practising their talents. By investing in our creatives, we directly invest in the image of Serbia, which these people often promote with their successes and achievements, both in their own country and around the world. The modern Serbia takes care of its environment, public areas and infrastructure.
During my first longer stay abroad, with my fellow creatives from all over the world, I discovered what people abroad actually know and think about our country. The only things that stood out as positive impressions of our country were the successes of our athletes, scientists and artists.
The image of Serbia is definitely shaped the most by the achievements of its successful and talented individuals. Our country is rich in talent, which inspires and forms a modern and positive image of Serbia on a daily basis.
We must nurture and support this talent, in order for the promotion of a creative Serbia to continue. Today's technologies allow us to very quickly modernise the country's image and shed light on our multitude of young and successful creatives who will selflessly give their skills and talent to their country, provided it supports them.
One new interview with our creative ambassadors once a week
In the coming period, we will regularly publish all the comments of our creative ambassadors, and you can read the full text on the CorD website.
CorD is an independent monthly magazine in English covering areas such as economics, finance, politics, diplomacy, society and culture.